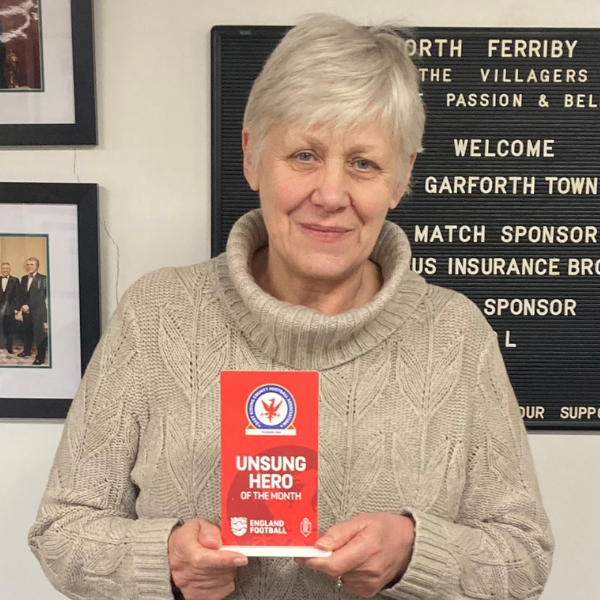 Our Unsung Hero!
Thursday 2nd of February 2023
Congratulations to Gill Hare on receiving the East Riding FA Unsung Hero of the Month Award for February.
The award recognizes those individuals in the East Riding who are going above and beyond to create a fun, safe, and inclusive environment for people to play and enjoy football.
Supporters and fans of our club will all be delighted for Gill and will agree that there could be no better or appropriate recipient of this award.
The piece below is extracted from the Award page of the East Riding County FA website;
The winner of this month's award is Gill Hare.
Gill first became involved with North Ferriby FC over 30 years ago and has been a lynchpin of the club ever since. With her roles ranging from being the clubs Wellness Champion to helping with the match day catering and hospitality Gill is no stranger to working hard for the benefit of others. Indeed, Gill is renowned for her compassion and care and can be relied upon to provide support in times of crisis.
Gill's role as the clubs Wellness Champion is particularly important to her as Gill is also facing her own mental health issues. These daily challenges make her contribution to the club even more profound as she is still fully committed to volunteering at the club and helping others.
Match days down at North Ferriby FC just wouldn't be the same without a visit to Gills 'Chuck Wagon' and it's the warm and friendly welcome supporters, players and officials are afforded that make Gill a real Unsung Hero. Nothing is ever to much trouble for Gill and she can always be relied upon to bring a smile to people's faces.
After all this time the club is very much a part of family life with her husband Les acting as club chairman. Their commitment to the club is unwavering with them recently relocating to the village so that they can be more hands on with day to day club business.
When asked what it means to be given the East Riding FA Unsung Hero of the Month Award Gill said, "I'm Shocked, humbled and flattered in equal measure. I think everybody involved with grassroots and non-league football are unsung heroes."
East Riding FA Participation and Communications Officer Chris Johnson said, "Gill is a real force of nature and clearly integral to the running of North Ferriby FC. Her care and commitment to off field matters is what inspires so many people to keep volunteering at the club which is why we are delighted to recognise her achievements."