North Ferriby Football Club to host England International
North Ferriby Football Club are delighted to announce that their Dransfield Stadium home has been selected to host the England U18 vs Scotland U18 Victory Shield international on Thursday 9 April 2020.
Club Chairman Les Hare commented: "This is truly a wonderful opportunity for our football club to showcase the facilities we have worked so hard to develop and we're immensely proud to have been awarded such a prestigious fixture. Youth development is at the heart of this club and so perhaps it's fitting our whole community can now share in this acknowledgement of our achievements and contribution to the development of local football generally in this, the 100th year of football in the village".
Humberside Schools FA are proud too to announce the hosting of the Victory Shield U18 international fixture, England v Scotland, to be played at North Ferriby. A spokesman said: "Humberside has a fine tradition of player representation at this level with Levi Tarbotton, now a player for North Ferriby, having captained the England U18 team last season. Previously Matt Bloor, a player from South Hunsley School (as was Levi) also captained the England team whilst playing for North Ferriby. We are delighted to work with Les Hare at North Ferriby FC in planning this prestigious event".
Full details of the game will follow in due course.
---
Don't miss our first Christmas Gin Festival, this Friday 6th December at the Clubhouse from 7pm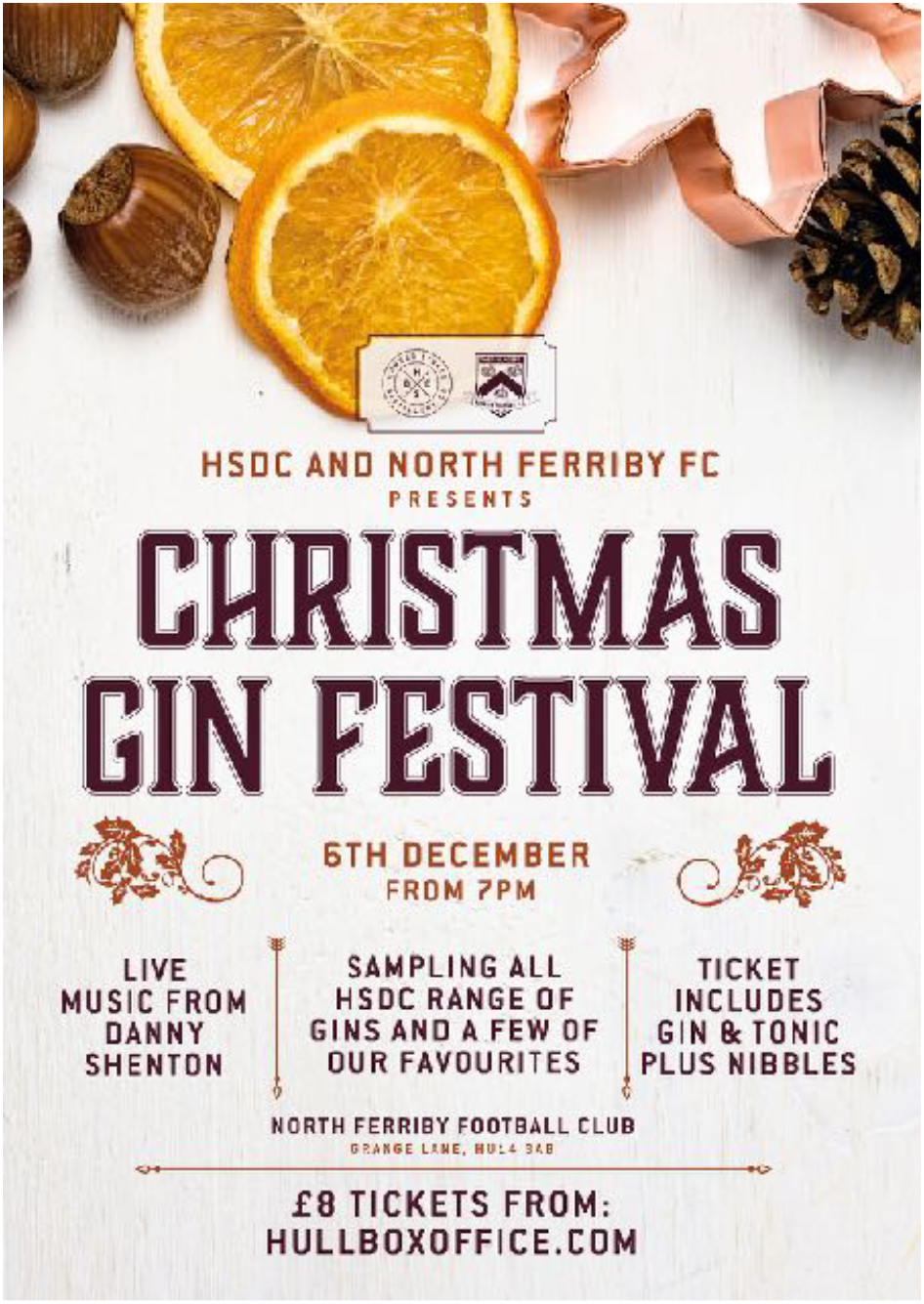 PLEASE NOTE THAT YOU CAN PAY FOR TICKETS TO THE GIN FESTIVAL ON THE NIGHT.
---
New Years Day Charity Match
In Memory of James Sidwell, this New Years' Day Football Match is in association with Hull & E Yorks Mind Charity.
To mark the anniversary of the passing of our late friend, James Sidwell, North Ferriby FC will be hosting a New Years' Day match on January 1st 2020.
James' friends will be coming together as two teams, with the thoughts of the two clubs our friend played for in his youth, North Ferriby and South Cave, in mind. As well as a time to come together in memory of James, we look forward to this fixture being an opportunity to support North Ferriby FC's continued partnership with Hull and East Yorkshire Mind of which all proceeds of the day will go towards.
Our New Years' Day match invites friends, family and the wider community to come together at the home of North Ferriby FC 1st January 2020 and enjoy live football and an opportunity to raise funds for our worthy chosen charity.
Where Dransfield Stadium, North Ferriby HU14 3AB
When KO 2pm, Wednesday 1st January 2020

---
The 'Phoenix' rises!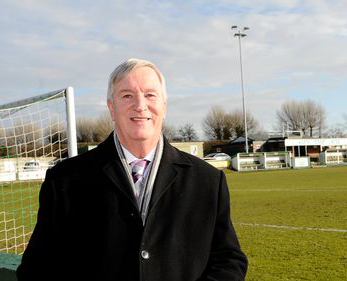 A NEW 'Phoenix' football club in North Ferriby has been approved after an application to the FA was rubber stamped.
North Ferriby Football Club will play out of the Church Road ground next season and take the place of the now defunct North Ferriby United, who were liquidated last month due to unpaid debts.
The new club, led by former United chairman Les Hare with the backing of a number of high-profile local residents and businessmen, will begin life next season in the Northern Counties East League.
The board of the new club will discover at a meeting with the NCEL on May 14 whether they will start life in the Premier Division or Division One, with the hope being the new village side can gain entry into the NCEL's top division. The application by North Ferriby Football Club was swiftly passed by the local FA, who were impressed with the meticulous presentation and the board's plan to run the new side as a non-profit community club.
Hare, who spent over 20 years as chairman guiding the Villagers to Wembley success and on the path to the greatest period in their history before departing four years ago, will run the new club, with the board currently looking to recruit a manager in the next few weeks.
Playing as NFFC rather than United, the phoenix side have adopted the name first used when the Villagers came into existence 100 years ago this year and chose the name in a bid to recognise the club returning to their roots after a turbulent end to the existence of United, who drove many supporters away and upset countless others with their approach.
"It is wonderful to be back at the club my wife Gill and I devoted over 20 years of our lives to," said Hare.
"We would like to think we set the highest standards in terms of local football. It's incredible to think that this year our community can celebrate 100 years of football in North Ferriby, which given recent events, we as a club, are so proud they will now have the opportunity to do."
The Future is green!
Power delivered to the site is now supplied from 100% renewable sources.
Graphics and artwork donated by Kingston Graphics