NFFC Youth Covid 19 response - Free Football Summer Camps
Monday 23rd March 2020
Dear Parent.
Its not so long since I was writing how wonderful it was to be back at the club my wife and I had previously devoted so many years to and how our immediate ambition was to provide our youth teams with the surety, comfort, confidence and professionalism expected of a club steeped in tradition. On reflection over recent months, it was incredibly heart-warming to see so many young players enjoying the beautiful game.
You might therefore imagine how heart-breaking it was just a few days ago having to take on board the government and ruling authorities advice to announce a cessation of all training and games. So much hard work by so many volunteers to re-establish our club now put on hold.
Despite the capital expenditure we incurred in meeting the enormous initial set-up costs for stadia repairs, general maintenance, kits, affiliation fees, balls, equipment, insurance, rent and rates etc. and whilst believing in our 'not for profit' policy, we felt we would be delivering best value for money by providing parents with the opportunity to pay annual subscriptions monthly, rather than in one or two lump sums. In fairness to the club, therefore, I asked that payments must be for a full 12 month duration.
Mindful that football and training has been prematurely cut short by these unprecedented Covid-19 times, I want to ensure we continue to deliver value for money and so I'm announcing today that every player who's monthly subscriptions are maintained in full will be entitled to FREE attendance for two weeks at one of our Football Summer Camps. These will be held in August at our state of the art 4G centre and will utilise all our stadia facilities including the main pitch. Youngsters will get to play the best game in the world all day long whilst working through fun challenges, healthy competitions and much, much more. Further details will be provided as soon as practicable.
Of course another good reason for maintaining your monthly fees is your inclusion within our very own 'Superdraw' providing you with monthly chances to win cash prizes from £20 to £500.
It goes without saying I will strive to ensure our club is in the very best position for when we get the nod to resume playing again and I do so in the belief I can rely upon your full co-operation and continued support.
NB.. I regret the club is unable to pause or lower subscriptions due to 'Go Cardless' system limitations - something we aim to address before next season. Similarly, DD cancellation would require a new application to reinstate.
North Ferriby Football Club
---
Youth Fees & Letter from Les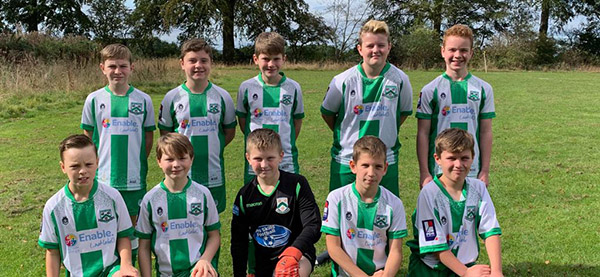 Letter to parents from Les
Dear Parent,
It is wonderful to be back at the club my wife and I devoted over 20 years of our loves to. We would like to think that we set the highest standards in terms of local youth football and we're proud to become the East Riding's first FA Charter Community Club. We were even prouder to be crowned Community Club of the Year in 2006.
Moving Forward, the club will be reinstating its long term development plan to expand its youth section and in the medium term, aim to manage at least two teams in each and every age group. Furthermore, a concerted effort will be made immediately to return the level of female participation we previously experienced.
Of course, our immediate ambition is to provide all our youth football teams with the surety, comfort, confidence, and professionalism expected of a club steeped in so much tradition.
I have been joined in the clubs rebirth by some highly respected local residents. Jim Dick OBE (Ex-Chairman of Smith & Nephew and Founder of the SMile Foundation and CAT ZERO.), Martin Lauer (Long-time North Ferriby Patron/Sponsor/Coach and owner of The One Point) and Simon Lunt (Lifetime contributor Award Winner for his contribution to business over 4 decades and partner of Gosschalks Solicitors). Together we share a passion to return the club into the heart of the community, to be inclusive and restore pride. Our financial strategy is a sound one, based on good well tried and tested principals. And, at the heart of that strategy is a 'not for profit' policy, ensuring that everything derived from the clubs trading is returned back into it to further strengthen and progress the club.
It's incredible to think that we can this year celebrate 100 years of football in North Ferriby. Given recent events, I am so proud we now have the opportunity to do so.
My very best wishes,
Yours sincerely,
Les Hare, Chairman, North Ferriby Football Club.
North Ferriby Football Club is a 'not for profit' club run entirely by volunteers. All income derived is retained by the club for the benefit of the club.
Youth Fees
North Ferriby Football Club aims to offer the highest quality football training and playing provision in the region, supporting players of all abilities from mini soccer into the senior game.
Our fees include a huge amount of benefits backed by a professional club, training and player facilities, qualified coaching staff, insurances, inclusive match benefits and more.
Youth & Mini Soccer Players - just £20 per month by Direct Debit**. Or a discounted single annual payment of £220 All payments start 1st June 2019.
Parents with more than one child at the club can benefit from a discounted rate of just £17.50 per player per month (By Direct Debit).
For less than £5 per week, your child will receive all of the benefits listed opposite.
Our charges are comparable to other clubs in the region and are less in many cases. Our fees have not gone up for 4 years and as such provide excellent value for money.
Important Note
In fairness to the club, all players must sign up for the full year (12 months) - any leavers will be charged should they leave part-way through the year as kits and other expenditure will have been fully incurred by the club. Players joining part-way through the year will need to pay £35 for their kit and their subs monthly thereafter. Payments will be taken on the 1st day of each month.
A link to sign your child up to the NFFC will be circulated by your youth coach manager.