Youth Fees & Letter from Les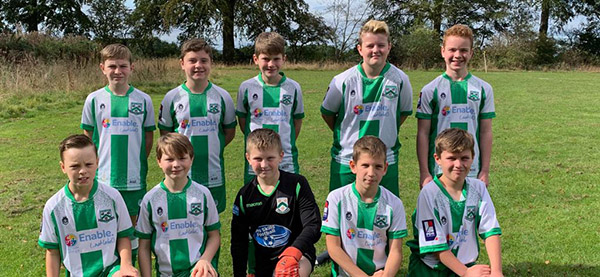 Letter to parents from Les
Dear Parent,
It is wonderful to be back at the club my wife and I devoted over 20 years of our loves to. We would like to think that we set the highest standards in terms of local youth football and we're proud to become the East Riding's first FA Charter Community Club. We were even prouder to be crowned Community Club of the Year in 2006.
Moving Forward, the club will be reinstating its long term development plan to expand its youth section and in the medium term, aim to manage at least two teams in each and every age group. Furthermore, a concerted effort will be made immediately to return the level of female participation we previously experienced.
Of course, our immediate ambition is to provide all our youth football teams with the surety, comfort, confidence, and professionalism expected of a club steeped in so much tradition.
I have been joined in the clubs rebirth by some highly respected local residents. Jim Dick OBE (Ex-Chairman of Smith & Nephew and Founder of the SMile Foundation and CAT ZERO.), Martin Lauer (Long-time North Ferriby Patron/Sponsor/Coach and owner of The One Point) and Simon Lunt (Lifetime contributor Award Winner for his contribution to business over 4 decades and partner of Gosschalks Solicitors). Together we share a passion to return the club into the heart of the community, to be inclusive and restore pride. Our financial strategy is a sound one, based on good well tried and tested principals. And, at the heart of that strategy is a 'not for profit' policy, ensuring that everything derived from the clubs trading is returned back into it to further strengthen and progress the club.
It's incredible to think that we can this year celebrate 100 years of football in North Ferriby. Given recent events, I am so proud we now have the opportunity to do so.
My very best wishes,
Yours sincerely,
Les Hare, Chairman, North Ferriby Football Club.
North Ferriby Football Club is a 'not for profit' club run entirely by volunteers. All income derived is retained by the club for the benefit of the club.
Youth Fees
North Ferriby Football Club aims to offer the highest quality football training and playing provision in the region, supporting players of all abilities from mini soccer into the senior game.
Our fees include a huge amount of benefits backed by a professional club, training and player facilities, qualified coaching staff, insurances, inclusive match benefits and more.
Youth & Mini Soccer Players - just £20 per month by Direct Debit**. Or a discounted single annual payment of £220 All payments start 1st June 2019.
Parents with more than one child at the club can benefit from a discounted rate of just £17.50 per player per month (By Direct Debit).
For less than £5 per week, your child will receive all of the benefits listed opposite.
Our charges are comparable to other clubs in the region and are less in many cases. Our fees have not gone up for 4 years and as such provide excellent value for money.
Important Note
In fairness to the club, all players must sign up for the full year (12 months) - any leavers will be charged should they leave part-way through the year as kits and other expenditure will have been fully incurred by the club. Players joining part-way through the year will need to pay £35 for their kit and their subs monthly thereafter. Payments will be taken on the 1st day of each month.
A link to sign your child up to the NFFC will be circulated by your youth coach manager.